I was super excited to have done the music, sound, and mix for this Cartoon Network Journeys VR trailer. I was involved in the game itself as well by contributing both music and sound. The game allows you to experience three worlds with very different experiences and my challenge for this trailer was to weave all of those experiences together to form something cohesive. I wanted to preserve the wonder, awe, and charm of Beyond Beeville's beautiful scenery, the silliness of Jest to Impress, and the trippy, bizarre qualities of Kosma Kwest while keeping the whole vibe lighthearted, fun, and inspirational. I knew initially that I wanted to use fun synths and percussion to keep things upbeat and voice to add character to the trailer. Later I focused on incorporating different instruments per section to help distinguish their different vibes - like adding flute and a canjo to the Jest to Impress section. I also edited and mixed cutdowns of this trailer - 90s, 60s, and 30s versions.
---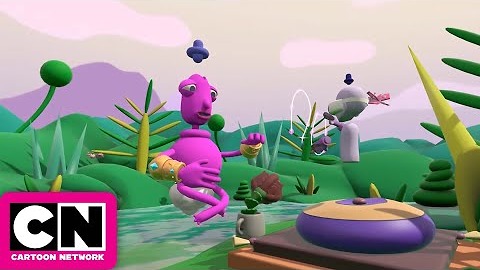 In this reel, I wanted to show my flexibility as a composer across a wide range of music styles while also highlighting who I am as a composer and what I love and prioritize in writing music for games. Below I'll list some of my thought processes about composing the music for each game shown in the reel and provide full tracks to listen to:
1. duOS is a game about two robots with different abilities helping each other escape a robot factory. I knew immediately I wanted the music to be dominated by simple synths and really fun metallic/industrial percussion to match the setting of the game. Thematically I wanted it to feel super fun, playful, expressive, and driving. There are also moments that feel really cartoony and silly. It was also important for me to mimick the game's play style in the compositions - a lot of the music plays upon two melodies intertwining with one another, mimicking the gameplay mechanic of having to use both characters to progress through levels. One of the game's basic sound mechanics are shown in this video as well - with the help of the game's programmer we set up a ducking system for music and dialogue, as well as a lowpass system for a blueprint mode the characters enter to record their actions.
---